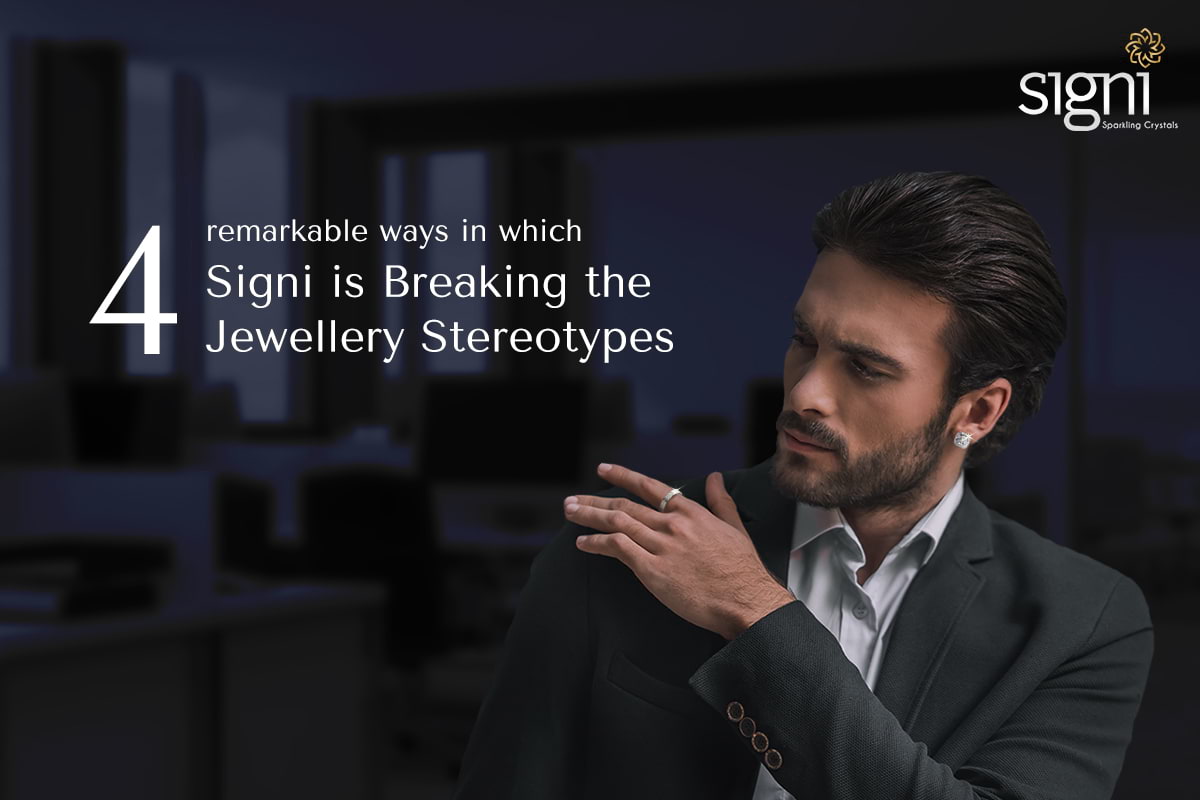 4 Remarkable ways in which Signi is Breaking the Jewellery Stereotypes
Since the beginning of civilization, humans have been adorning themselves with jewellery in the form of shells from the sea, feathers, bones, flowers etc. In those days, both men and women would wear decorative ornaments as a symbol of power, wealth or merely as a style statement. In India especially, kings, queens, emperors and other royalty would adorn themselves with heavy, intricate gold jewellery as a powerful depiction of their status. With time, the concentration of jewellery among women wearers have increased and that among men have decreased. The growing influence of culture and other associated stigmas regarding jewellery might have caused this discrepancy.
Jewellery has been categorized as a female entity by social standards until now. Accessories should be inclusive, empowering and should give everyone a feel-good factor, regardless of their gender. The newly launched Signi Jewels has taken a detour from the traditional route and is introducing luxurious jewellery that is affordable, inclusive and bold.
Here's how Signi Jewels is breaking Jewellery Stereotypes :
Jewellery that has no gender
Although the world has been evolving, there are still stigmas associated with jewellery that restricts us from embracing our personal style. Be it special occasions or just a regular day at work, you'll find women feel more comfortable about wearing jewellery than their counterparts. This happens quite often as people restrain themselves from wearing jewellery due to the stigmas associated with it. However, jewellery is not just a piece of embellishment but is something that should resonate with your personality, values and individuality. With Signi Jewels, you can go for intricate pieces or heavy emblems and feel like your most authentic self, regardless of your gender.
Jewellery for every occasion
When was the last time you tried to pick a jewellery piece to go with your outfit and happened to finalize it at the first go? You'd probably have to jog down your memory to find that date. However, gone are the days when jewellery was meant to be a final flourish to your everyday look. Casual jewellery is the new fashion staple that every individual can vouch for. You can wear something as simple as a classic solitaire pendant and ace it with the right assortment of jewellery. With that in mind, Signi has created over 1500+ unique designs that celebrate your unique style every single day.
Jewellery that is intensely individual
Imagine wearing an elegant tennis bracelet and entering a boardroom while feeling your most authentic and powerful self. Or how about wearing jewellery while working out? Signi Jewels aims to create sparkling crystals that bring out your most authentic self by keeping individuality at its forefront. From vibrant gemstones that align with your colourful personality to dainty pieces that give your outfit a chic touch, the sparkling crystals at Signi will celebrate every essence of you. You can select from a range of iridescent crystals set in 18k gold and strike the perfect balance between grandeur and minimalism. An expression of authenticity and individuality, we're sure that these iridescent pieces will hold a special place in your heart
Jewellery beyond age
With a range of premium and trendy designs, Signi offers timeless jewellery with a perennial appeal. You can be a young person wearing heavily embellished jewellery or an older woman wearing dazzling, sparkling crystals; we're sure that you'll ace your look no matter how you style it. Jewellery is no more a piece of embellishment but is something that is personal to every individual. With that in mind, Signi has created sparkling crystals that celebrate your most authentic self and will change your perception of jewellery one precious stone at a time!
The sheer diversity of sparkling crystals at Signi will let your individuality shine through irrespective of your age, gender, taste and preference. Revolutionaries aren't interested in feminizing men or emasculating women. They are, in fact, on a mission to eliminate such stereotypical labels. There's fluidity in fashion and jewellery, just like there is in gender. Similar to fashion apparel, jewellery is also something that should make you feel comfortable. It shouldn't hinder you while doing your daily chores or activities but should become a part of you. With a vision to cater to contemporary audiences, Signi has created a range of luxurious jewellery that is pocket friendly, ranging from INR 3000/- to INR 70,000/-. These intricate crystals at Signi are designed to celebrate your one true self and add shine and brilliance wherever you go. You, too, can own a piece of jewellery that is an expression of your #IntenselyIndividual self.